Any large electrical appliance purchase is an investment and should be done after thorough research and taking your personal requirements into consideration. To make your search easier, we have written a thorough blog on the best microwave oven in India 2022. The edit starts with the top 10 best microwave ovens, sorted into three sub-headings – solo microwave oven, convection microwave oven, and grill microwave. Further, you can see a FAQ of some of the queries any buyers will have like what are the major types of a microwave oven, what to take into consideration before purchasing one, how to clean a microwave oven, and distribution of the best microwave ovens according to different attributes like price range and purpose.
Use the table of contents section to jump straight to your preferred section. This is going to be a lengthy blog.
Also See: Best Mattress Brands In India
Best Solo Microwave Oven In India
1) Panasonic 20 L Solo Microwave Oven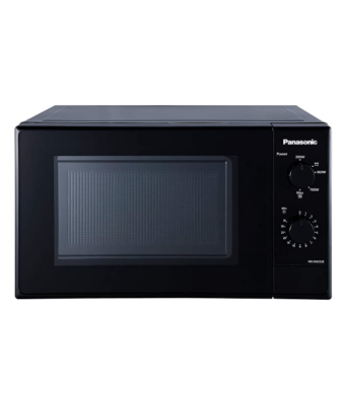 Simple, sophisticated, and sleek – the Panasonic 20 L is one of the best solo microwave oven in India. The ample capacity inside and a delicate design outside give a compact look and don't take up much space on the countertop. After commencing their operations in 1972 in India, Panasonic has gained immense trust in Indian consumers for their cutting-edge technology at inexpensive prices. They have manufacturing plants in India, though it's a Japanese company, and thus, also provides employment and opportunities to people here.
Physical Features & Attributes:
To be used simply for cooking, reheating, and defrosting, the Panasonic Solo Microwave oven comes in a black square-shaped design with a transparent glass door. The door doesn't have a handle, but it's not automatic either. You have to use the space down to open the microwave, which is convenient and doesn't get hot. Outside, it has mechanical knob controls, not digital ones. They rotate quite smoothly though and you don't have to worry about the workings. There are two knobs – one that denotes the power – which has 4 settings: 200W, 360W, 700W, and maximum power, there's also a time knob with 1 to 10 minutes and then, a 5-minute gap timer till 35 minutes.
Benefits & How It Compares To Others:
For those looking for a simple, compact microwave with just a few functions and who do not want to use it for baking or grilling, then a SOLO microwave oven is the best option. After doing a lot of research, we've found that among solo microwave oven in India, the Panasonic one has been ranked the highest on almost every e-commerce platform. The minimalist design, length of smooth working, and easy technology have fared well with a lot of users.
There are only 2 settings to control and the appliance also comes with a user manual which makes it even easier to use. Ideal for anyone who isn't a fan of the technology and wants an oven that has straightforward usage. It also comes with a dial setting for the timer, which anyone who is old-school and loves the clicking sounds of the dial will have fun using. With higher power settings, you can cook any food quickly without having to stand for long hours in the kitchen.
The Japanese technology known for its simple, compact designs also delivers the same results here. Even though the capacity of the oven is 20 liters, less space is devoted to the electronics, and more space is devoted to the interiors. This makes the oven very light and takes less space on the countertop.
Here's what one of the reviews says: "Thank you for not disappointing. I just wanted a simple oven and while looking for the best microwave oven in India, this was the one with nice reviews overall. It has strong quality and lasts for a long time without any worries. I really love it."
Purchase here for Rs.5290/-.
data:image/gif;base64,R0lGODlhAQABAAAAACH5BAEKAAEALAAAAAABAAEAAAICTAEAOw==
Best Convection Microwave Oven In India
2) LG 28 L Charcoal Convection Microwave Oven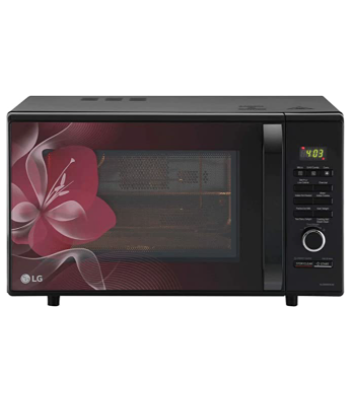 If you're looking for a quality, versatile convection microwave oven in India, then LG 28 L Convection Microwave is one of the best in the market at the moment. Go to any e-commerce store and this will be the first to pop in the search, owing to its superior technology, features, and amazing LG service. From cooking, baking, grilling to automated menus, there are tonnes of features to explore in this convection microwave. For anyone who wants a good quality, multi-functional oven in the market, this is surely their best bet.
Physical Features & Attributes:
The LG 28L Charcoal Convection Oven comes in a black outer body with floral detailing on the side. There's a 12.59-inch internal space inside to allow you to fit in multiple food items for a quicker preparation experience. It has digital controls on the outside for easier switching between any modes like microwave, convection, and grill. There are also 9-panel buttons that can deliver you an auto-cook menu to make any of your favorite dishes or everyday things like ghee, paneer, or curd. Yes, you can make these dairy delights in minutes using this oven.
Benefits & How It Compares To Others:
A convection microwave oven offers the benefits of a normal microwave, giving you the option of cooking, reheating, and defrosting, but they are meant for grilling and baking as well. This one, for example, also has the option of a charcoal lighting setting to give your grills the perfect traditional oven cooking and taste.
With 271 auto cook menus that include a variety of continental and Indian dishes, all you have to do is prepare the raw food and press the button to cook it. No hassle of standing there and waiting for the food to cook properly. The oven will do the job for you.
Some of the exciting dishes you can prepare on this oven are 12 types of roti, halwa, and even dal. More so, you can even prepare ghee from malai in just a few minutes. We all know taking out ghee is such a time-consuming process which also takes a lot of stove capacity. But in LG 28 L Convection Microwave, you can prepare ghee in 12 minutes (depending on the quantity). You also have the option to prepare paneer and curd.
The oven also comes with a rotisserie handle. You can put paneer and meat through the utensil and leave them for grilling. It rotates inside to give you the perfect crunchy and juicy result you'd want from your grill. Here are all the other utensils you will get with the oven: glass tray, rotating ring, Tawa, rotisserie bar, rotisserie handle, owner manual, recipe manual, cookbook (1 of each).
There's also a child lock feature in the appliance to protect your kids from any mismanagement or safety hazards. The warranty period has a good life too, with 1 year for the product and 4 years for magnetron (the inside heating apparatus installed inside the microwave).
Purchase here for Rs.16,890/-
data:image/gif;base64,R0lGODlhAQABAAAAACH5BAEKAAEALAAAAAABAAEAAAICTAEAOw==
(Not to be confused with normal LG 28L Convection Microwave Oven)
3) Samsung 32 L Convection Microwave Oven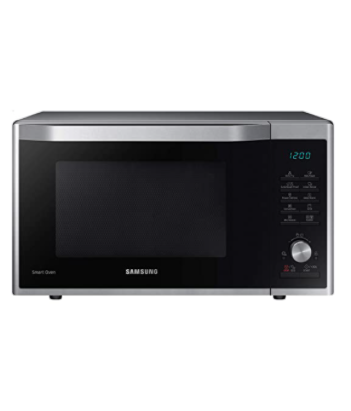 An oven that you will find a lot in Youtube recipe videos is the Samsung 32 L Convection Microwave Oven. This versatile appliance gives a very close competition to the LG 28 L Charcoal Convection microwave. The only difference is Samsung doesn't provide a starter kit (which is the microwave-safe utensils) with this microwave, but LG does. So the slight price difference is covered there. Rest the products are quite the same and only service in your area and brand trust matters.
Physical Features & Attributes:
The Samsung 32 L convection oven comes in grey and black colors. Grey is preferable because of its classy and unique look. The handle is on the top and the oven door opens downwards as opposed to sideways in most models. Inside, there's stainless steel body and ceramic to prevent any build-up of bacteria. This also facilitates the easier removal of any stains without any scratches. Outside, there are 8 digital buttons for different uses namely slim fry, roti naan, curd/ dough proof, India recipe, power defrost, keep warm, convection, grill, microwave, and combination. There's also a turn knob below to control the temperature settings and a start/ stop button down below.
Benefits & How It Compares To Others:
The Samsung 32 L convection oven comes with tandoor technology and preheats option. While the former is a great option for those who want to enjoy grilled tikkas and kebabs, the latter is an important step for bakers and the resulting dessert to be just as perfect as they wanted. You can also cook rotis and naans inside the oven by simply putting the rolled dough and pressing the roti/ naan option. There's a tandoor setting that replicates the tandoor you see in dhabas to give you the perfect crispy yet light naan.
It also meets healthy living standards by giving an option of slim fry. In this, you can just apply some oil on anything that needs deep frying like samosas, kachoris, or potato fries, and put them in the oven. The slim fry technology combines the grill with warm air circulation to give you a crispy, healthier alternative to deep-fried foods.
Besides, there's also an option where you can get curd from milk in just a few minutes. With over 224 pre-programmed recipes, there are so many varieties for your everyday cooking that the price will feel totally worth the overall benefits. Samsung also has an app called 'My Recipe' which you can install on your phone to refer to what more you can make in your convection oven.
Here's what one of the reviews says," It's one of the finest microwave ovens in India and the best purchase I made from Amazon. The technicians were great and I got a call from Samsung the very next day to enquire if I am facing any problems. I have tried various modes and adjustments and they're all working as expected. I haven't figured out any cons yet. Great value for money!"
Get here for Rs.15,790/-
data:image/gif;base64,R0lGODlhAQABAAAAACH5BAEKAAEALAAAAAABAAEAAAICTAEAOw==
4) Godrej 19 L Convection Microwave Oven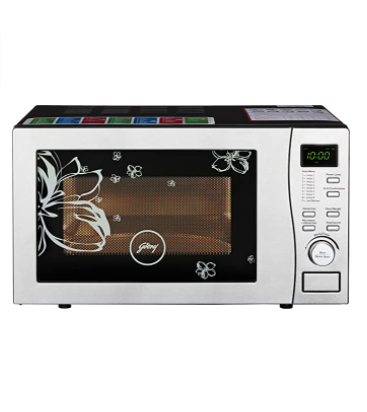 A budget convection microwave oven under 10,000 is the Godrej 19 L convection microwave oven. It offers all the features that any convection microwave oven offers on the list, but there's just less volume, which can actually be perfect for someone looking for an oven for a small family. Given more than 61 years in the electrical industry, you can certainly trust Godrej for a superior quality product and thoughtful servicing.
Physical Features & Attributes:
The Godrej 19 L Convection Microwave has an aesthetic floral design on the door and a greyish look on the outside for an opulent feel but on a budget. There are tactile buttons on the top to control the temperature and make the settings. Tactile buttons give an improved sense of touch or perception of touch because they go down when pressed and pop right back. There's also a jog dial to set the time which is said to have a higher shelf life than other types of buttons.
Benefits & How It Compares To Others:
The Godrej convection microwave oven comes in many modes to keep the cooking according to the dish. There's convection mode, microwave + convection mode, and grill mode to serve the heating of different dishes according to the needs. You also get a grill stand when you purchase the microwave so you don't have to purchase it separately. Besides the grill stand, you also receive 1 each of glass turntable, roller ring, and user manual with warranty card.
This oven also comes with the healthy fry feature wherein you can cook your favorite deep-fried dishes like samosas and french fries with much lesser oil. The equally tasty alternative is a much healthier version of the same dish. There are Insta cook menus to give you an instant cook option for your favorite dishes with just a click of a button.
Further what I like about this microwave is the fermentation feature. Being a big fan of South Indian cuisine, I love cooking dosas with a fermented batter that's kept overnight. But unfortunately, you can sometimes forget to make the batter. Godrej microwave, however, has the option of instant fermentation so you don't have to wait another day to satisfy your cravings.
Another great part about buying from such a reputed brand is that Godrej will send a demo guy who will demonstrate how to use the microwave and hence, making the whole usage process much easier for you. There's also a child lock feature to keep your little ones safe while they explore the world.
Here's what one of the buyers wrote, "I purchased this microwave oven on Diwali and it's really fantastic. It has a great look and works brilliantly. The price of other brands go above 10k, but this one is really well-priced and in budget. Still the quality is great and there have been no issues. The starter kit, warranty, and free demo made the purchase even more worthwhile. Please go forward with it if you need a convection microwave oven under 10000 in India."
Get here for Rs.8490/-
5) LG 21 L Convection Microwave Oven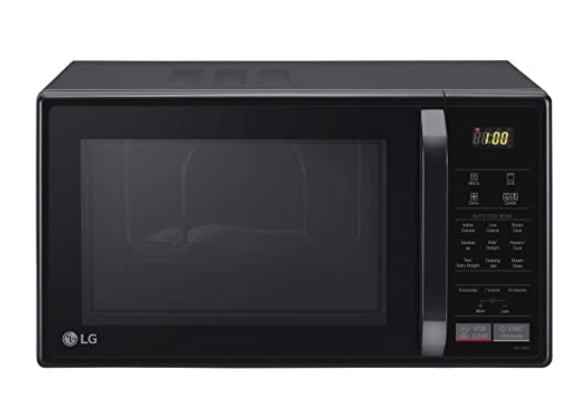 LG is one of the best microwave brands in India and that's why it's products are mentioned twice on this list. This one offers a little lesser capacity than the one mentioned above and also has a lower power setting. It also doesn't come with rotisserie to grill meat and paneer, but it does have a starter kit to get you started on the first day. Completely digital and with a sleek design, this will give an aesthetic appeal to your kitchen while being easy to use on a daily basis.
Physical Features & Attributes:
The LG 21 L microwave oven comes in black color with digital buttons on the outside. Inside, there's a space of 9.64 inches to easily adjust a good quantity of the food. There's a child lock and cooking completion alarm for some convenient benefits for the user. Along with the microwave, you also receive a starter kit and a user manual to get you started on preparing meals with your new culinary purchase.
Benefits & How It Compares To Others:
This LG oven comes in the modes that any other expensive microwave ovens also offer, namely, grill, microwave, convection, and combination. Below that there's an auto cook menu with pre-programmed dishes and some daily meals you'd want to prepare. This includes curd or roti or tea. The Kids' delight offers a range of continental cuisine for your little ones so their taste buds are satisfied without you having to work that hard in the kitchen.
Designed tactfully to save energy by 21% more than its competitive ovens, the LG 21 L convection microwave oven in India can also help you save money in the long run. The stainless steel body also makes sure any spillage doesn't lead to permanent stains. With the right cleaning, the spots come right off without any scratches. Further, the installation of a quartz heater eliminates the risk of any hand injury while taking out the prepared meal.
Here's what one of the reviewers say, "Purchased this microwave after a lot of research. I heard IFB microwaves are the best but their service is pathetic. But LG has good servicing guys. One came to my home right after the purchase to give a demo. There have been no problems with the product. I have used it to make tikkas and cakes and some other things. It's a good product." Another review wrote, "This appliance is simply awesome. Delivery was timely from Amazon and the same day LG technician visited to give brief details about the product. The starter kit contains a boiling bowl, two spoons, two bowls, two racks, and a 151 recipe manual."
Purchase here for Rs.10,650/-
data:image/gif;base64,R0lGODlhAQABAAAAACH5BAEKAAEALAAAAAABAAEAAAICTAEAOw==
Grill Microwave Oven In India
6) IFB 20 L Grill Microwave Oven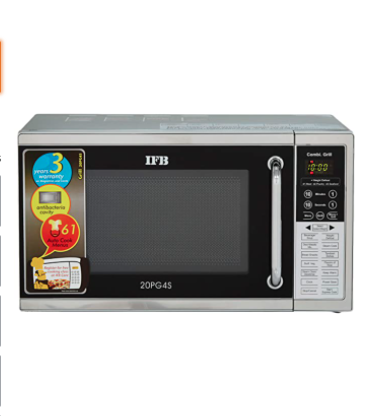 Among grill microwave oven in India, IFB stands as the winning champion. Their microwave brand is anyways quite popular but the convection ones do receive a few complaints about working and service. Grill microwave from IFB, however, is touted as one of the best microwave in India if your sole purpose for buying an oven is baking and grilling, and other features of a normal microwave don't interest you that much. Find below a complete review of the IFB 20 L grill microwave oven.
Physical Features & Attributes
The IFB 20 L grill microwave oven comes in a charming silver and black color combination and also includes a starter kit for convenient usage. There are digital keypad buttons on the side which just beep when you press them signaling the particular function is activated.
Benefits & How It Compares To Others:
IFB grill microwave works on the grilling mode which means the heat is transferred through electromagnetic radiation and further spread through a fan. This ensures equal distribution of heat through the food and gives you an even cooking – an important factor when you bake or grill anything, like a cake, biscuit, or a kebab.
The oven also comes with options to prepare many snacks like beverage/ soup, bread snacks, stuffed vegetables, tandoori dishes, flavors of rice, and many others. This gives you the convenience of preparing a variety of recipes using the same appliance. There are a total of 61 automated menus that help create complex dishes in minutes with just a click of a button.
Another great advantage of this IFB grill microwave is the automatic defrosting option where you just need to enter the weight of the food and the oven will automatically adjust the time to defrost it. When defrosting in an oven, it's important that it happens quickly to retain the flavor of the food and the IFB Grill Microwave makes sure of exactly that.
Further, the product has a steam clean option where you just need to place a bowl full of water inside and press the function. The over will create steam and loosen any stains. Afterward, you can just wipe off the stains for a clean look.
"What an awesome product from IFB. It doesn't have any complicated settings. Very easy to use buttons so you get full use of the money. I have not had any issues in the past 4 months and it still works quite well. There's even cooking of pizzas and desserts – what I mainly ordered for. I will definitely recommend if that's your main goal too," writes one of the reviewers.
Purchase here for Rs.8499/-
7) LG 20 L Grill Microwave Oven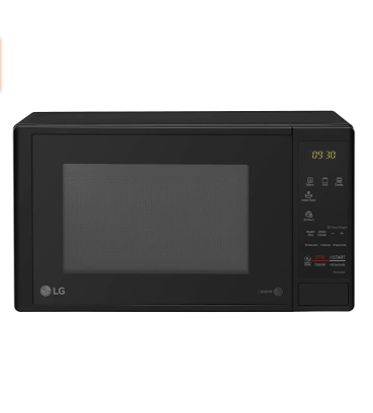 The LG 20 L grill oven is another great microwave oven in India that is on budget and lasts long. It's a very simple oven and can be used by anyone looking to grill/ bake in their oven without any hassle and just want to use it for these minimalistic functions. Priced conveniently at Rs.7500/-, the oven is the best fit for those who want the benefits of the oven and microwave in one.
Physical Features & Attributes:
This grill microwave oven by LG comes in a jet black color that looks elegant and aesthetic in the kitchen. The door doesn't have a handle and you'd have to open the oven by the space that's left below. The entire instruction buttons are digital and there are just a few of them for those who like their appliance to be straightforward without any confusing features. With 20 liters of space, it's a convenient and affordable option for a family of 4.
Benefits & How It Compares To Others:
The LG 20 L microwave grill oven comes with a grilling option alongside reheating, defrosting, and cooking. The grill option emulates the cooking of a tandoor to give you the perfect meal every single time. There's a quartz heater on the top that ensures there's even cooking throughout the food.
This product comes with a menu specially designed for health-conscious people. With tonnes of online orders and junk food available around us and lesser time to cook, this health-savvy option can come in handy for people who want to eat well but don't have the proper time. The calorie-conscious plan can also help you lose weight.
Besides being on a budget, the unit also has an energy-saving option where the display is turned off when the microwave isn't active for 5 minutes – both doors closed and open. Another great benefit, which is unique to this product out of all, is the anti-bacterial activity which reduces bacterial growth and hence, odor formation.
Here's what one of the reviews says," I got it on time from Amazon and it's working really well. I had an expensive one before with lots of features but never really used much except for reheating and simple grilling/ baking at times, so I decided to go for an affordable option this time. Will recommend it to all."
Get here for Rs.7490/-
data:image/gif;base64,R0lGODlhAQABAAAAACH5BAEKAAEALAAAAAABAAEAAAICTAEAOw==
FAQ's For Best Microwave Oven
What Is A Microwave Oven?
A microwave oven is a common electronic device installed in households and is used to cook, reheat, and bake foods. They use electromagnetic radiation to oscillate the water molecules inside the food and heat them to a particular degree. The radiation is produced by the metal inside, transferred through glass, paper, plastic, and other microwave-safe materials, and absorbed through foods to complete the process.
Types Of Microwave Oven:
There are basically 3 types of microwave ovens available in the Indian market: Solo, Convection, and Grilling. Find a description of all of them below.
1) Solo Microwave Oven
Solo microwave ovens are the most basic types of oven in India and also the most economical option. They only offer two basic cooking purposes: cooking and reheating. They're only popular because they cost much less than other models in the market. A major disadvantage is they can't fulfill your baking or grilling needs.
2) Convection Microwave Oven
Convection Microwave oven in India are the most popular kinds of oven as they fulfill the basic cooking and heating needs, but also gives an advantage of making bakery items and pizzas. Many come with a grilling plate and rotisserie utensil to also give you the grilling and toasting option. Convection ovens work by electromagnetic waves to heat food, but it also has a small fan to circulate air, much like ovens, to go into baking and grilling food and make the even cooking required in them impeccable. Because of its versatility, the convection microwave oven in India is one of the most popular.
3) Grilling Microwave Oven
The grill microwave ovens are also one of the most popular ovens because of their simplicity. In the grill microwave, you will get many devices to make dishes like kebabs and tikkas. They can also be used to make pizza, but for baking desserts, this might not be a suitable option.
You will find lists with 7, 8, or even 9 types of microwave oven, but don't find yourself being confused with them. They also segregate the microwaves depending on where you place them which is above the range, built-in, and technological advances like a smart microwave.
While internally microwaves differ only in 3 categories, here are other common ones you will find and what they mean.
Above The Range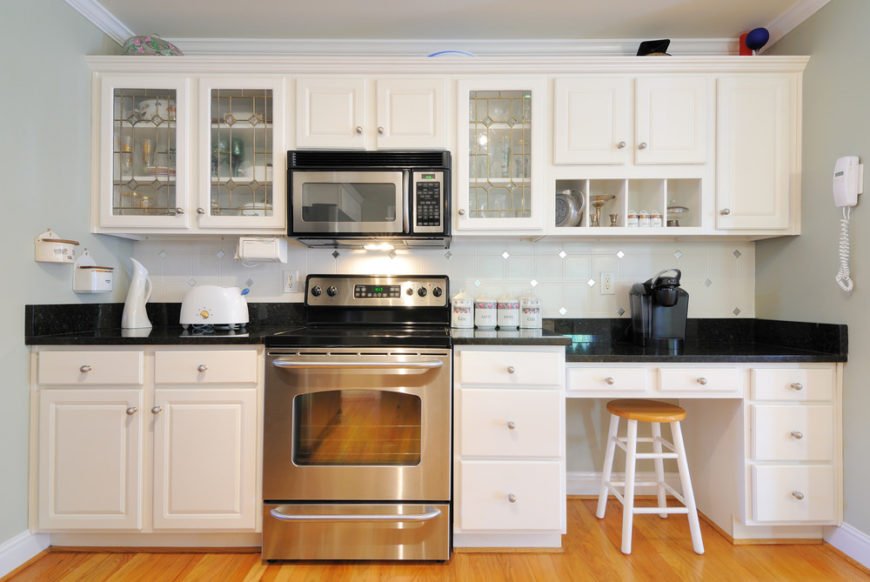 Above The Range, microwave ovens go above the cooktop and are installed in a convenient location for easy access. In modern-designed kitchens, these are the best options in the market. Because of their aesthetic style and additional charges for installation, they are higher than the most common type of microave oven in the Indian market – Countertop.
Countertop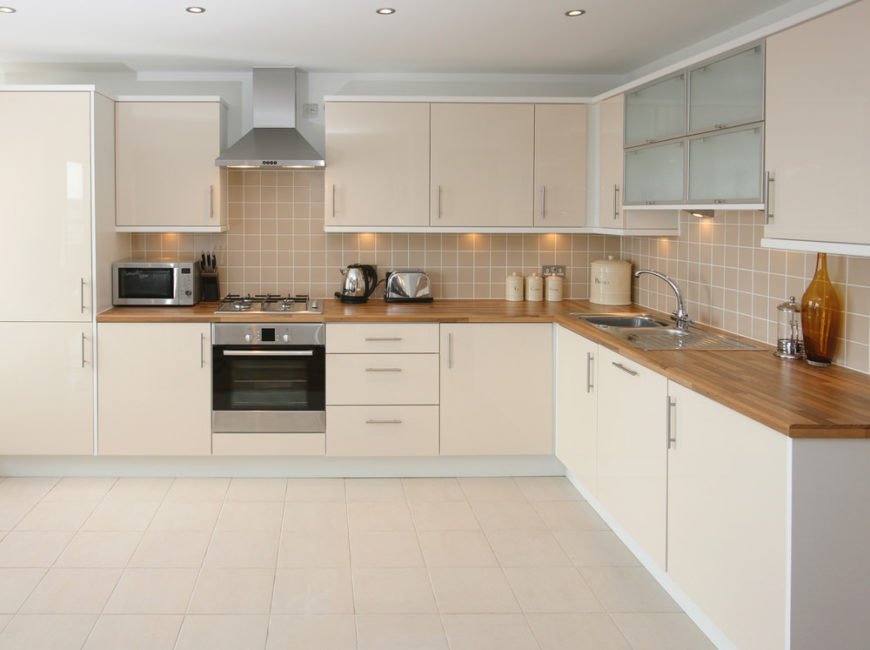 The most common type of microwave oven in India is the countertop, where the unit is set directly on the platform of your kitchen, along with other kitchen appliances. This is the best option for those who purchase furnished houses and don't get the kitchen done themselves. They are also quite inexpensive and can be moved if you feel like any time. The only consideration you need is whether the size fits well on your countertop and doesn't go near any of the other heating devices.
Under Cabinet (Suspended)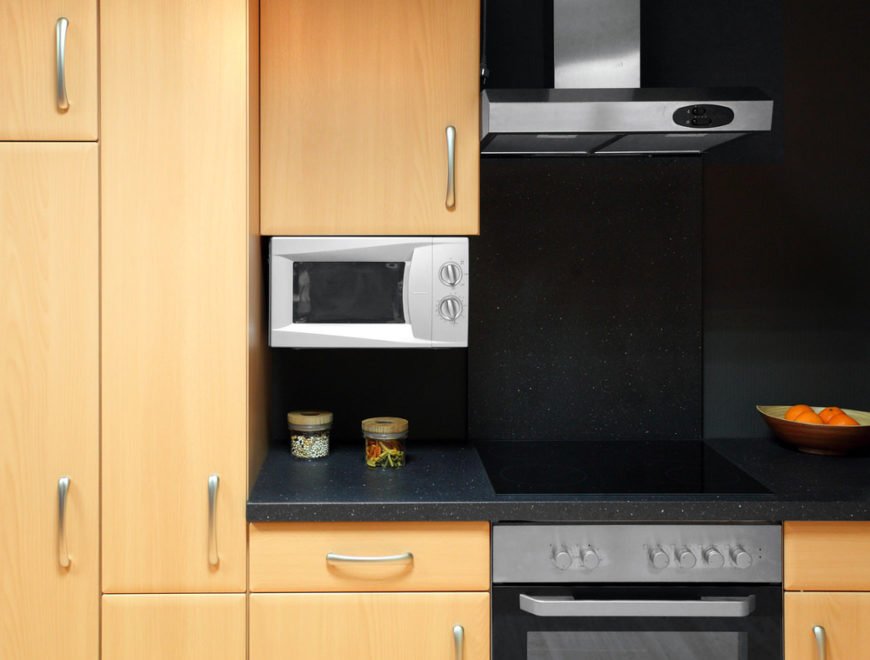 Widely regarded as a luxurious option and also costing more, these types of microwave oven are installed above your countertop and below any of the cabinets. This arrangement lends a very stylish and unique look to the kitchen. Also adding to the advantage is making the countertop space cleaner and polished.
That being said, this is only an advantageous option when there's plenty of space between your counter and cabinet. Otherwise, the result can be messy and all that leftover counter space turns out to be useless as well.
Under Counter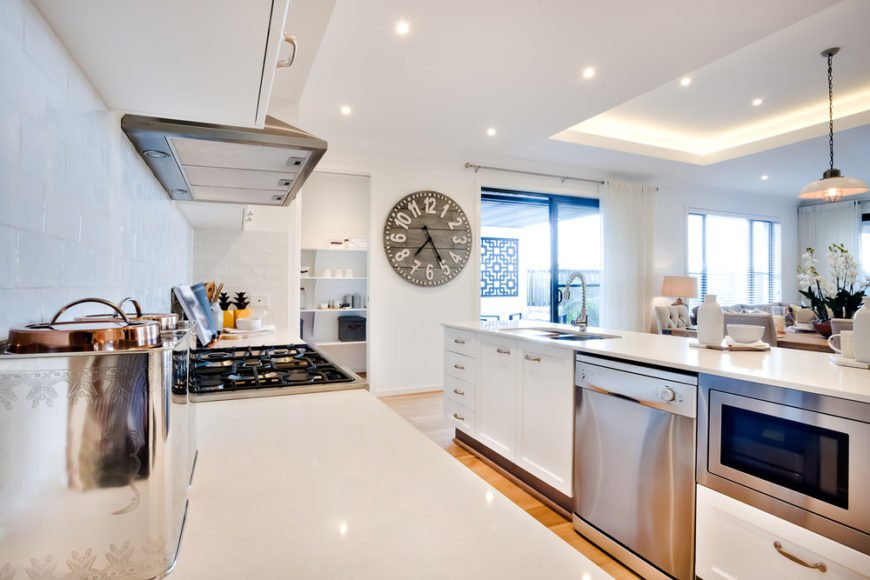 The Under-Counter microwave (as you might have already guessed it!) goes below the counter and is installed below the platform of the kitchen. This can be a convenient option for those who don't want their microwave to be above their height for easy access. It also gives the advantage of easy cleaning. However, some people don't like to bend down to use their microwave; if you're one of them, this type of microwave oven in India is certainly not for you.
Built-In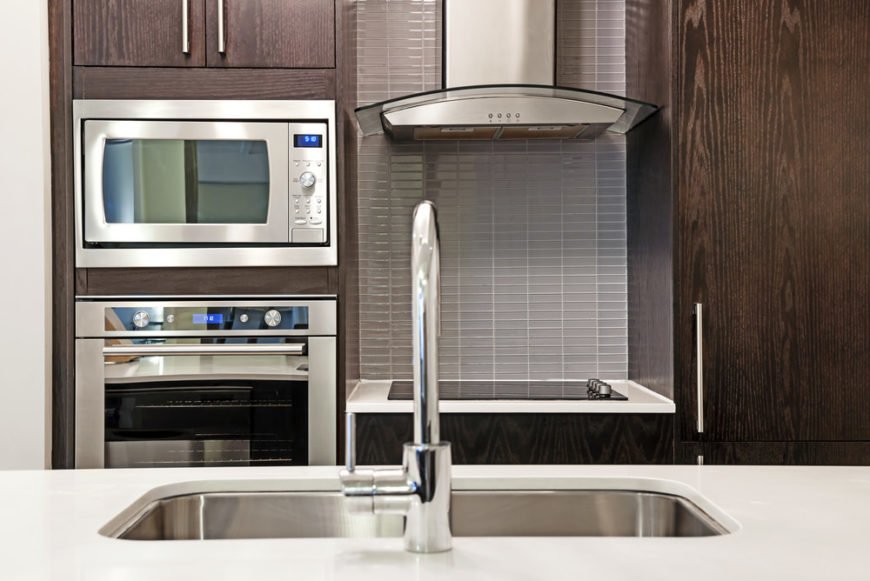 Built-In microwaves are a common feature when you're designing your own kitchen, allowing you to smartly use the space and give the space a clean and premium look. These microwaves can also be installed after the kitchen has been done, but it does require some extra work. The location depends a lot on how the person wants to use it and what's their convenience.
Smart Microwave
Smart Microwaves offer a variety of Wifi-enabled, remote control, and adaptive features to offer consumers a luxurious level of cooking experience. They can also offer voice control to give you the same convenience as other smart devices in your home. These types of microwave oven in India can also connect to your smartphones and offer you the ability to give instructions to your appliance through your phone.
How Does A Microwave Oven Work?
A microwave oven works by the electromagnetic radiation produced inside them which heats the water molecules already present inside the food. All microwave comes with a device called magnetron installed inside that agitates electrons with a heated filament. This generates microwaves needed to heat the food. These microwaves are reflected within the metal interiors, which in turn, are absorbed by the food. When absorbed, there's an oscillation of water molecules in the food, causing its temperature to rise. That's why foods higher in water content cook quickly inside the microwave than food with lower water content.
Who Invented The Microwave Oven?
Scientific discoveries are often a result of serendipity events and the history of the microwave oven is no different, where invention happened by accident. The inventor, Percy Spencer – a self-taught engineer, was working with Raytheon Corporation when he accidentally discovered the heating ability of electromagnetic waves in food. Raytheon is largest aerospace, intelligence service providers, and defense manufacturer in the World. And at the time, they were working on vacuum tubes used in radar systems to help soldiers in World War 2. Radar was an important technology during World War II, being used by both Axis and Allies to find enemy ships and planes.
Founder of microwave, Percy Spencer, was one of the leading experts in radar tube design and worked in Raytheon to supply US defense with magnetrons, a high-powered vaccuum tube used in radar. In 1945, when the war was coming to an end, Spencer was standing in front of an active radar set when a peanut butter candy bar in his pocket melted. Intrigued, he tested other foods, this time placing them in the middle of magnetic waves. He tried them with popcorn kernels and all of them popped – making the first ever microwaved popcorn and popcorn becoming the first food to be cooked in the microwave.
Note that Spencer wasn't the first one to notice the phenomenon, he was just the first one to investigate it. In 1933, at Chicago World's Fair Westinghouse, a 10-kilowatt shortwave radio transmitter was used to cook potato and steak. But nothing came of these culinary adventures until Spencer's discovery and investigation in 1945. On 8 October of the same year, he filed a patent, and 2 years later, in 1947, the world's first microwave – 6 feet tall, 750 lbs, and costing $5000 – manifested into the physical being. Spencer filed a total of 300 patents in his career and counted many popular engineers like Vannevar Bush, William Redington Hewlett, and David Packard as his close friends.
After countless changes and many years later, the microwave could be produced and sold inexpensively. The public also had to overcome their fear of radiation which all happened after 1970 and now, microwaves have become an indispensable part of every household all over the world.
How To Use A Microwave Oven?
It's really quite easy to use a microwave. All ovens come with instructions to follow and usage written below every button to give swifter ease to use for buyers. Including below are the answers to most asked questions on how to use the microwave for specific purposes.
To Bake A Cake:
For baking, you will need to purchase a convection oven. A solo oven doesn't support the baking process. Baking a cake is quite easy. We have also included a video, but here's a written set of instructions as well. For baking, you will first need to preheat the oven. For the same, press the convection button on your microwave. This will show you a temperature at which normally the preheating is done, which is generally 180 degrees. You can change depending on the recipe.
Press start and the oven will start to preheat. You don't have to enter time, the oven will automatically stop when the temperature reaches as entered. Another thing to note is the oven will be at the temperature for a set time that will start counting down after the heating stops. Make sure you put the cake before the time ends. For a more detailed guide,